"The bitterness of poor service remains long after the sweetness of low price is forgotten."
Legends of Fall Outfitters first opened our doors in August 1996. In the 'old days' our business, like most smaller family run businesses, was only 480 square feet. Since then the loyalty of our repeat customers, doing things right the first time and our attention to detail has allowed us to expand our business to 4100 square feet while still at our original location. We have future plans to expand even further!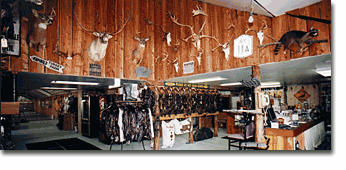 Come and visit us sometime or just browse our online collection of photographs. You can see for yourself that Legends of Fall Outfitters is serious about archery! Our facility, located on Route 11 in Tully, N.Y includes a fully stocked Pro Shop with every imaginable accessory! We stock a wide variety of top shelf hunting apparel and no serious archery shop can survive without a professional repair and set up facility. You know it and we do too! All humility aside for a moment, we have the best in the North East possibly the country. To top it all off there is a well lighted and heated indoor shooting range to hone your skills.
The best outfitters are those that hunt, those that use the equipment they sell and perhaps most importantly stand behind their work. Legends of Fall Outfitters walks the walk and combines it with "in the field experience". Count on it!